Painting.
Like beauty, it's only skin deep, but it affects your perception of every other aspect of your home. Even when everything else is done to perfection, that craftsmanship is diminished by inferior paint workmanship.
We believe that an impeccable paint job is something that you can take great pride in and enjoy day after day, for many years to come.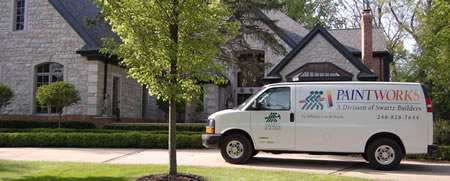 Why Swartz PAINTWORKS?
Our attention to detail is not only evident in the finished product, but also throughout the entire paint process. Before any work is even performed, we employ thorough dust containment measures to protect your floors and furnishings.
Once work commences, our meticulous preparatory work is the foundation for an excellent finished product. Our PAINTWORKS team has developed cutting edge systems and uses premium Benjamin Moore products to ensure unsurpassed quality that is observed and appreciated by all who see it.
No Job Too Large or Small…
From simple repairs and individual rooms, to whole house interiors and exteriors, our PAINTWORKS Division can handle all of your painting needs.
Lasting Beauty…
When done properly, an exceptional paint job is one of the most cost effective ways to enhance the beauty of your home. We invite you to partner with our team in transforming your home with a fresh new look.